In-Line Circulator Pumps
This page highlights some of the options we provide for UP/UPS Circulator Pumps. Additional products and sizes are available. Contact us to speak with a specialist.
UP/UPS Circulators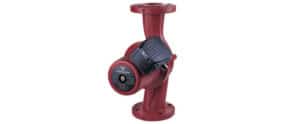 Grundfos circulators are specifically designed for residential and commercial heating and cooling systems. The wet rotor design ensures quiet, maintenance free operation. Adjust the speed to fit your specific application with our 3-speed model.
Circulator Features and Benefits:
Easy to install
Maintenance free
Quiet operation
Wet rotor design
Integral check valve – selected models
Single, 3-Speed, and Variable-speed models available
Cast iron, Lead free Bronze, or NSF 61 Stainless Steel options
Terminal box or Line cord models
Some of the applications the UP/UPS Circulators work for are:
Heating Systems:
Boiler/Hydronic heating
Ground-source heat pumps
Radiant floor heating
Hydronic and fan-coil heating
Domestic Hot-Water Systems:
Solar water heating
Hot-water recirculation
Domestic hot-water heating
Cooling Systems:
Chilled water pumping
Vantage Pump's technical experts can help you assess your application and recommend the proper pump selection to suit your needs.