BoosterpaQ-Multi Pump
This page highlights some of the options we provide for Hydro Multi-E Pump Systems. Additional products and sizes are available. Contact us to speak with a specialist.
Hydro Multi-E Pump Systems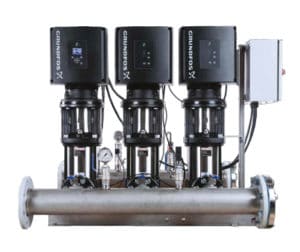 Multiple pump systems offer increased hydraulic efficiency at part load versus the typical pump systems that have a variable flow rate requirement, spending the majority of operational time in the lower part load condition.
The Grundfos ECM MLE motors exceed motor efficiency standards, set by the International Electrotechnical Commission (IEC). NEMA premium efficient motors are equal to IE3 level, so these motors represent two levels above NEMA premium. Due to the increased efficiency, energy consumption and operation cost decrease by 7-9% approximately based on a typical domestic water load profile.
Grundfos Hydro Multi-E pump system features
Redundant master motors
Redundant sensors
2 digital inputs & outputs
2 analog inputs
Limit exceed functions
Optional built in Field-BUS Communication
Optional sensor for dry-run protection
E5 motors, two levels above NEMA premium
GO communication possible
Customer defined standby pumps
Pipe filling function
External setpoint influence
DP control using two sensors, discharge/suction subtraction
Predefined setpoint – makes it possible to remotely switch between different predefined setpoints
Pulse flow meter – makes it possible to measure the flow and show specific energy (kWh/gallon)
Grundfos BoosterpaQ systems offer constant pressure, constant flow, temperature stabilization and automated pump system communication and redundancy. Whether it is a high rise building, hospital, motel or any other variable flow application, we can meet your needs with the Grundfos BoosterpaQ. Contact Vantage Pump's experts for sizing per your application.